Paired to Perfection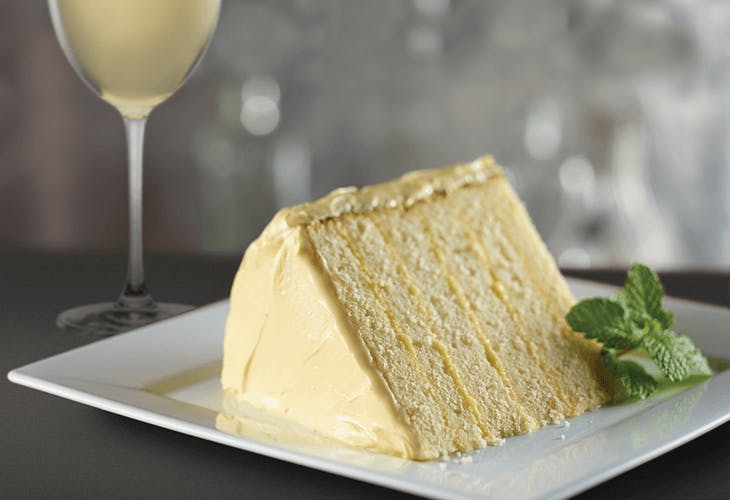 December 2, 2016
There are few things greater than dining in decadence and delighting your palate with delicious dishes. Without question, the cherry on top of a perfect meal is a perfectly paired dessert and wine.
Amy Lutchen, wine director at Del Frisco's Double Eagle Steak House in Chicago and recent Somm Wars champion, has a few tips for creating the perfect pairings.
"The basic rules for pairing wine and desserts are to pair sweet wines with dishes and a touch or more of sweetness," said Lutchen. "Choose nutty wines to pair with nutty ingredients and caramel colored wines for caramel sauces. Following color of the dessert is also a good way to choose wine, like darker chocolate with Amarone."
Now that we have the basics down, let's slice into the sweetness.
TRES LECHES
"Tres leches is light and fluffy so you don't want the wine to overpower it," said Lutchen. "A lighter colored, sweet wine such as Moscato d'Asti, would work well. This wine is light, sparkling and doesn't have too much sweetness. Other great pairings for tres leches would be amaretto or even Baileys on the rocks.
Not in the mood for wine? Lutchen suggests Amaretto or Baileys on the rocks.
APPLE PIE
There are many variations of traditional apple pie, so it's important to consider the ingredients when pairing.
"Apple pie is buttery with a touch of tart apple, but some recipes call for caramel or nuts, which would alter the pairing," said Lutchen. "Light or simple styles of apple pie would pair well with Sauternes. If the pie has caramel or nuts you should look for a wine a step heavier or nuttier for the pairing such as an Oloroso Sherry, Vin Santo or a Hungarian Tokaji."
CHOCOLATE CAKE
"We enjoy an array of ports with chocolate at Del Frisco's," said Lutchen. " I have a new 'Port style' fortified wine from Washington State from Sparkman Cellars called Hallelujah, and it tastes like chocolate covered cherries. This is a great pairing for chocolate cake. A 20-Year Tawny, a vintage Port, Sherry, Madeira or Banyuls will be great options as well."
DEL FRISCO'S WORLD FAMOUS LEMON CAKE
"At Del Frisco's in Chicago, we like to pair late harvest Viognier specifically Davis Family Vineyards, Gratitude, Late Harvest Viognier, from the Russian River Valley in California," said Lutchen. "These grapes are sourced from the famous Sara Lee's Vineyard and the Davis Family makes a wine that is not too sweet and pairs with the Lemon Cake beautifully. A late harvest Riesling would also be a delightful pairing."
We encourage you to try these pairings and more next time you're hosting at home or impressing your guests at one of our tables.
What's your favorite dessert and wine pairing? Share your indulgences in the comments.