Spread the Holiday Cheese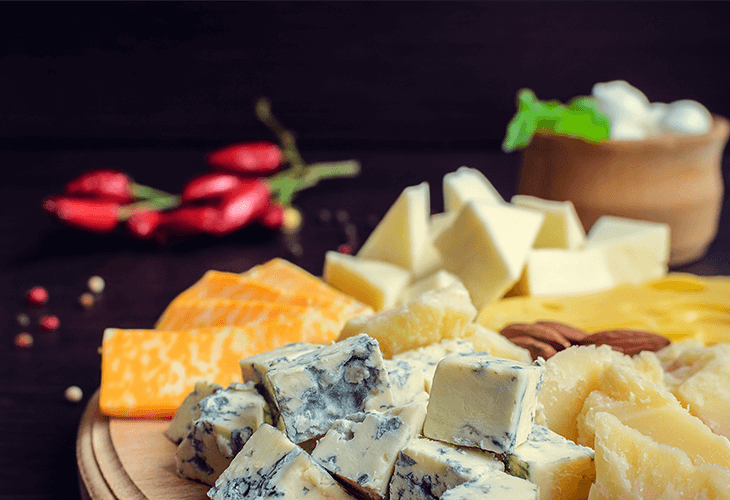 November 28, 2016
The greatest gift you can give your guests this holiday season is the gift of cheese. And, when you present it perfectly, a simple cheese board can transform a mere appetizer to a deliciously sophisticated conversation piece. Join us as we slice off a piece of expertise and share how easy it can be to create a customized cheese board perfect for even the most tasteful holiday party.
THE CHEESE
There are countless cheeses to choose from, but the first step is to select a range of both flavors and textures. Flavor should range from mild to pungent, and texture from soft to hard. You can create a complex cheeseboard with the proper pairing of simple cheeses.
1. Brie is always a brilliant choice: creamy, mild, soft, and picks up accompaniment flavors with ease.
2. Dutch Gouda is a wise choice; its slightly sweet flavor with a note of nuttiness brings together some of the flavors of the season.
3. Parmigiano is simply classic; a tinge of toughness on the rind and the aging process brings out a broad range of flavors from sharp and nutty to sweet and earthy.
4. Danish Blue is an easy choice in the hard cheese selection; it's a crumbly cheese with a pungent flavor. A small bit will go a long way in terms of lasting flavor.
THE ACCOMPANIMENTS
Many people don't realize that the cheese isn't always the most important thing on the cheeseboard. The accompaniments are important for complementing some of your more pungent cheeses, while also bringing out some of the flavors in your milder selections. Some great holiday helpings include fresh fruit, nuts, freshly chopped herbs and even jams and honey. Treats like a raspberry habanero sauce have a sweet, spicy kick sure to punch up your spread.
THE BREAD AND CRACKERS
Regardless of what you're serving, bread is an absolute must. It not only helps add a wider variety of textures but acts as a natural palate cleanser between bites.
THE WINE
Of course, no cheese board would be complete without a complete selection of wine. Be sure to offer several types to complement your cheeses, but also the wide variety of preferences your guests may have. The four that always seem to hit the right notes are Moscato, Chardonnay, Pinot Noir and a Sauvignon Blanc.
After you've made your selections, the only thing that remains is assembly. Feel free to be creative with your cheeses and use a wide array of color, textures and props to make sure your cheese board is anything but boring. A nice touch is to add handwritten cards to identify each cheese and the characteristics thereof.
What are your favorite cheeses to include on a cheese board? We want to hear!