The Rich History of The Del Frisco's Collection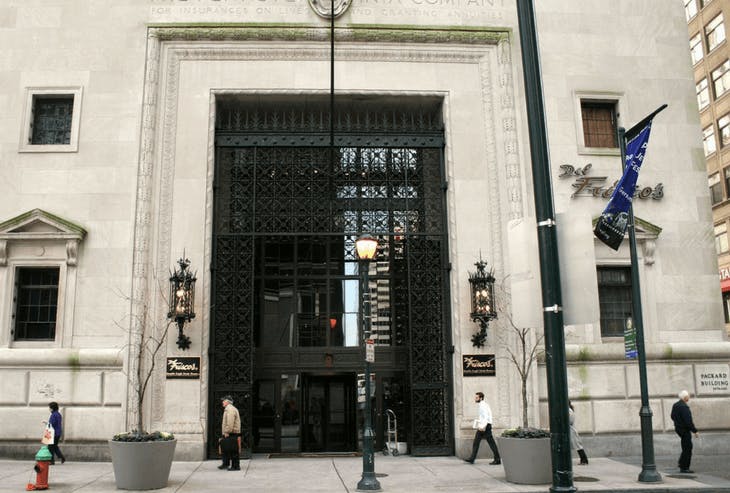 March 17, 2017
If you've visited one of the twelve (soon to be thirteen) Del Frisco's nationwide, you know that much like our cuisine, our restaurants are big, bold and unparalleled. However, what you may not know is the rich history behind our four walls.
Chicago, Ill.
Located off Oak Street and tucked between luxury retail shops like Christian Louboutin and Tom Ford, Del Frisco's in Chicago is more than just a pretty façade.
The restaurant occupies three stories of the historic Esquire Theater, which was designed by W.L. Pereira in 1938. The theater was a single auditorium with just over 1,400 seats and made its debut with the Operetta "The Firefly."
While patrons visiting the Esquire Theater have upgraded from popcorn to hand-cut steaks and seafood, the remodeled space has deco-style theatrical touches – like old film reels transformed into lounge tabletops – that honor its history.
Fort Worth, Texas
Del Frisco's is located near the world-famous Fort Worth Stockyards, but its rich history extends beyond the cattle drive. In the 1800s, the three-story building was one of the most popular destinations on what was once referred to as Hell's Half Acre.
Hell's Half Acre was an area that contained saloons, brothels and gambling halls, and was rumored to be a favorite destination of Butch Cassidy, The Sundance Kid, Wyatt Earp and Doc Holiday. The building, now occupied by Del Frisco's, was formerly a bathhouse frequented by cowboys passing through.
Along with the sheets of the original bath tiles still visible on the floor, Del Frisco's 10,000-bottle wine cellars are stored within the original brick from the underground tunnels cowboys used to walk their cattle back home from the stockyards.
Philadelphia, PA.
Built in the 1920s by Ritter & Shay, the ground floor of the historic Packard Building in Philadelphia, PA was home to First Pennsylvania Bank until it reopened as Del Frisco's in 2008.
The building boasts marble columns, a two-story wine tower, sculpted ceilings and intricate ironwork– all of which are impressive on their own accord.
But perhaps, the most awe-inspiring feature is the intact underground bank vault. Inside the vault is a private dining room encased by glass wine cellars and adorned by a 13-ton metal door on the entrance.
Have you visited any of our historic locations? Tell us where you've dined in the comments.